The purpose of the RCL is to afford the student body of SBSM, an opportunity to participate in activities that concern the learners directly or indirectly, in the functioning of the school, and to instil in them a sense of responsibility, encourage school loyalty and respect for authority, in order to prepare them for their adult lives. The RCL will have the following executives – Chairperson; Vice Chairperson; Secretary; Treasurer; Education Officer; Media Officer; Sport Officer and Cultural Officer.
Objectives of the RCL
To ensure that all the learners have a clear understanding of their rights and privileges, responsibilities and duties, of the learners, in order to build, and maintain a healthy attitude throughout the learner body;
To act as the only recognised channel of communication between the learner body and the EDUCATOR BODY, PARENT'S ASSOCIATION, and the AC, and vice versa;
To build learner unity so that they can act as one strong united body;
To plan and promote social and other learner based activities and encourage all learners to get involved in projects and campaigns in and around the broader school community;
To act at all times in the best interests of the learners of the school;
To listen to learner problems no matter how irrelevant these may seem to be and to help resolve these problems, through discussion, debate and reason in so as may be possible;
To keep all learners informed about all the activities and events at school;
To develop and foster a positive relationship with all the management, the educators and support staff at the school in the best interest of all concerned;
To develop a good relationship with the AC, PARENT ASSOCIATION, EDUCATOR BODY and other relevant representative bodies at the school;
To strive to uphold the Ethos of the school by encouraging better race relations, religious tolerance, language differences, etc. inside and outside school;
To establish for the benefit of all learners, fruitful links with other students of other schools and communities, wherever they may be found.
I have a passion for youth empowerment that can be achieved through guidance and mutual respect. As the liaison officer I look forward to ensuring that the vision and mission of the school and the learners are aligned as well as ensuring that learners are part of the decision-making process where possible. Furthermore, as liaison officer I will be there to guide, support and assist the RCL members. Looking forward to a fun filled year together.
Mrs. B. F. Laher
RCL Liaison Officer
It is my honour and privilege to serve as the RCL Liaison Officer for the year 2022. The main aim of the RCL is to ensure that learners are happy to come to school, content with the functioning of the school, and are proud ambassadors of SBSM.  I am certain that the newly elected executive members will perform their duties to the best of their abilities and in the best interest of the learners. In my capacity as Liaison Officer, I will provide the guidance, assistance, support, and encouragement that these learners require to ensure that they meet their goals.
Best wishes to the RCL of 2022. Let's make this year count.
Ms. J. Patel
RCL Liaison Officer
My name is Yashica Patel, and I am the RCL's Chairperson.
As chairperson, my plan of action is to work with the RCL team members to make school a more memorable experience for the learners by bringing all stakeholders together. It's not about what I can do as a chairperson for the students; it's about what we can do for each other by working together toward a common goal. During this pandemic, if conditions allow, I'd like to re-establish outreach initiatives, fun days, and cultural events that create a festive environment for students.
I look at things from the standpoint of being pleased with what we have at SBSM and appreciating the opportunities that exist rather than the way things are. Nothing is lacking at S.B.S.M., I realised. We tend to keep focusing on what we don't have. It is past time for us to take what we have and start making good use of it, since we have been failing to do so.
I will not be looking for the path far away but the path that exists under my feet at S.B.S.M.
"The way to get started is stop talking and start doing" – Walt Disney
My name is Anjani Govind, and I am the secretary of the RCL.
I am a very organized person that can be depended upon and hardworking. These and other qualities I have will help fulfil the role of secretary. As secretary, I will record detailed minutes of each meeting. All internal and external communication will be professionally drafted. We would like to make 2022 a memorable year for learners at SBSM.
I am Parth Chauhan and I am the RCL's treasurer 2022.
As treasurer, I will be impartial and methodical in all my work. I have a sense for detail and the motivation to achieve my goals. I plan to assist in fundraisers that will help the school and the larger community. I will work closely with stakeholders, teachers and my fellow learners to drive and achieve the best for SBSM.
My name is Nekeitha Makan, and I am the outreach officer for 2022.
As the outreach officer I would like to organize different hampers to give to those in need, raise awareness on days that go unnoticed e.g. Lupus Day and to get the learners involved in various outreach activities such as giving out care packages/hampers, visiting the old age homes and many more.
My Name is Ethan Vandeyar, and I am your Media and education officer for 2022
I am a firm believer that the most important things in life are the connections you make with others. My goal is to create an environment that promotes connections between people, and the use of media and technology has become the most vital tool we can use in order to achieve this.
Technology and computer science is one of the few things that I am truly passionate about and confidently experienced in. I am determined to use my platform as media and education officer to create an exceptional school experience for all learners and create a brighter future for SBSM.
But above all that, my wish is to leave my mark in SBSM so that next year when I look back on my term as Education and media officer, I can proudly say that I accomplished something that will benefit all learners for many years to come.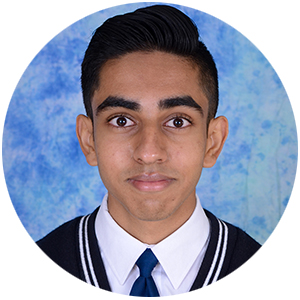 My name is Hemesh Parshotam, and I am the RCL's Sports officer.
I am a sport devotee and played sport in and outside of school. As a leader, I am dedicated and self-motivated. I am the type of person who will offer assistance wherever I can. I wish to provide a balance between academics and sports for the learners at SBSM. My aim is to get everyone involved in sports. I believe I can make a positive difference at the school.
My name is Ishita Daya and I am your cultural officer for this year 2022.
I am very in touch with my culture and I view it as extremely important. By using my interest in the different cultures in our society, I will strive towards making our school more culturally diverse and helping the learners to embrace their respective cultures. I am a good listener and an easy person to talk to. I will try my best to assist the learners wherever I can. I look forward to this year as your cultural officer.